13 Apr

PHS Association Town Hall 2021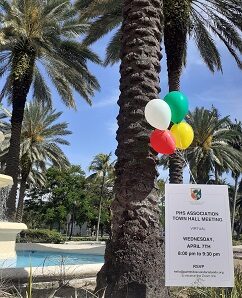 The Association's first virtual Town Hall, moderated by Ian Kaplan, President of the Board, ran for 90 minutes and was attended by over 50 residents
A wide range of issues were covered:
Palm & Hibiscus Roadway & Harmonization
Mina Samadi, City of Miami Beach Capital Improvement Projects, gave an update.
West Palm: 88 properties qualified for private side drains.  26 properties declined, 62 properties accepted, of which 30 have been completed with harmonization, 27 are at various stages of drain installation and harmonization.
Old Light poles will be scheduled for removal from Palm & Hibiscus by FPL & the city's contractor.
Prior to the second lift of asphalt for Palm & Hibiscus roads, a contractor must repair or replace damaged curbs.  This contractor will also complete unfinished sidewalks at Palm Island Park.  Curb repair is projected to start in approximately one month.
Landscaping (G.O. Bond) Projects
Scott Peavler of Craven Thompson gave an 8-slide presentation.
Plan, renderings and photo simulations incorporating the generator coverage at West Palm Roundabout, Fountain Street and the Hibiscus Median.
Hibiscus Island Utility Undergrounding
Terry Miller, FPL, Project Manager CMC, Feeder Underground Group gave an update.
FPL's presence will be seen in the coming weeks and months as it completes its installation.
FPL has secured one sole contractor for this next phase of construction and the work will continue through the summer months.
There will be additional installation of cable and conduit behind the homes in the dry lots.  FPL will intercept the homeowner's service from the back poles.  To do this, FPL plans to bore a conduit in the ground, in order to minimize disruption to landscaping & pavers on the property.
Homeowners of the 19 overhead serviced homes will need to convert their service in the coming months and should reach out to Amy de Saint-Seine, who will be coordinating with the local area FPL engineer.
West Palm Utility Undergrounding Special Taxing District
The Special Assessment Districts Division estimates the following timeline for the creation of the District:
First reading of agenda item as early as June with subsequent public reading in July 2021.
Election date tentatively in 4th Quarter 2021.
Cost per assessable lot calculation, including 15-year financial costs not finalized, but estimated between $27,000 & $29,000 per assessable lot.
The scope of the Association's advocacy in 2021 is wide-ranging. To demonstrate the breadth of issues, Ian Kaplan very briefly touched upon a number of topics that the Association is actively addressing or is closely following, including:
MacArthur Causeway Traffic & Closures
Traffic Light Timing
Mailbox Harmonization – Hibiscus One-Way focus
Street Parking
Recycling & Garbage Pickups
Feral cats feeding
General Islands maintenance including landscaping, roadways & lighting
Tour Boats noise
Overnight Vessel Mooring between Palm, Hibiscus & Star Islands
Biscayne Bay Health Issues
Port of Miami Cruise Ship Shore Power
"Baylink" Miami-Miami Beach Transportation Corridor Project
120 MacArthur Project – Related Office Building Development
The Association continues to enjoy healthy financial standing.  Members will be provided the Association's latest financial reports upon request.
The Association relies on the support and volunteer work of its members. We encourage you to become involved with issues where your talents and skills can make a difference to the community.
Residents are reminded to lock car doors and remove keys from vehicle.
Star Island Guard House is still undergoing renovation.  Many upgrades have already been made.  A new sliding door and floor have been ordered.
Star Island Security Camera Surveillance quotes were compiled and are being analyzed.  Residents should continue to offer input.
Star Special Tax District Security Guard Services contract has been renewed with G4S.
Palm & Hibiscus Special Tax District – We expect to upgrade surveillance cameras in the Palm guard house.
The current service contract with MBPD is coming up for renewal.  We are considering adding services, such as a security rover and off-duty marine patrol. We note that the MBPD has been incredibly supportive to our community.
Please contact me for more information on the above topics.
Amy de Saint-Seine
Executive Director
PHS Islands Association