19 Sep

PHS Association Town Hall 2022

Posted on September 19, 2022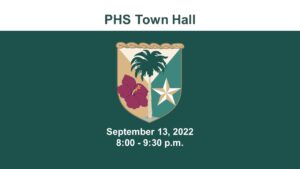 Chief of Police Clements and MBPD marine patrol and neighborhood resource officers delivered a security update at the Association's virtual Town Hall, which was attended by over 40 residents.
The MBPD presentation on Security was followed by a wide range of issues including:
Hibiscus Island & West Palm Utility Undergrounding update presented by Hector Maestri, FPL Major Accounts Manager
The reasons behind the Hibiscus project delay were explained. FPL presented drawings to illustrate why the loads on the new transformers were not balanced and how its new proposed solution will actually increase capacity to fulfill future usage needs as new construction on Hibiscus Island continues.
FPL is finetuning its new design and the final cost estimate on the West Palm undergrounding with the City of Miami Beach.
The scope of the Association's advocacy in 2022 was wide-ranging and included:

Palm Island fountain hardscape and landscape upgrades
Refurbishment of the Star Island Guard House and planters
MacArthur Causeway Left (East) Palm Bridge Exit – FDOT pavement markings/signage upgrades
Biscayne Bay Environmental Issues – Increased PHS Profile
Recycling Pickups to optimize service while respecting rules of the road
Sign Pollution and Improvements – Palm & Hibiscus
Defective Lamp Posts Remedy – Palm & Hibiscus
SMART Beach Corridor Rapid Transit Project (Baylink)
Recap of Association participation in the County's August 9th SMART Meeting.
Mayor Gelber's Letter to Mayor Levine Cava
The Association continues to enjoy solid financial standing as evidenced in the increased dues participation in spite of the recent increase in the annual dues amount, resulting in higher net income in 2022 over the prior year.  Members will be provided the Association's latest financial reports upon request.
Please contact Amy de Saint-Seine, Executive Director, for more information on the above topics.
PHS Islands Association