10 Mar

PHS Association Annual Meeting 2023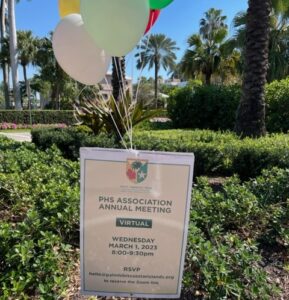 State Representative Fabian Basabe delivered welcoming remarks at the Association's virtual Annual Meeting, which was attended by over 40 residents, the MBPD and several Miami Beach Commissioners.
A wide range of issues was covered during the 90 minute meeting:
Hibiscus & West Palm Utility Undergrounding update presented by the Hibiscus & West Palm Undergrounding Committees:
In 2022, the PHS Association organized 25 Zoom & on-site meetings attended by the city, FPL, Breezeline and AT&T.
Committee members' hard work was recognized. Thanks to our diligent project management, the utilities have been held accountable, and progress is measurable, although it still lags.
FPL drawings were shown to demonstrate how the project delay workaround will "split the Hibiscus loop" to increase capacity and fulfill future usage needs as new construction on Hibiscus Island continues. The next phase of the project will take place shortly on the Hibiscus median with the addition of two new switch pads.
Baylink

The PHS Association was represented at County Commissioner Higgins' Baylink presentations during three community meetings in February.
Due to the highly incomplete project information provided to date and lack of improvements supported by data, the PHS Association Board took a position against the newly proposed Baylink Project on February 21, 2023.
Security

Lt. Toby Rabelo addressed security concerns on the islands, including vehicle theft prevention and general safety. Residents are reminded that they may contact Neighborhood Resource Officer Deborah Martineau for a Crime Prevention Survey of their residence free of charge.
The scope of the Association's advocacy in 2022 was wide-ranging and included:
Encroachment of Moored Vessels around the Palm Hibiscus Star Islands
Responsible Replacement of All Defective Lower Lamp Post Sections on Palm & Hibiscus Islands
Palm Median Landscaping Maintenance Improvements and Replanting
Lobbying & Onsite Meetings with FDOT staff on the MacArthur Causeway Westbound Exit to Biscayne Blvd
Homeowner Funded Improvements Proposal
Financial standing

The Association continues to enjoy solid financial standing as evidenced in steady dues participation, currently at 140 members in 2023 at the time of the Annual Meeting.  Members will be provided the Association's latest financial reports upon request.
Nominating Committee Report
PHS Association members elected the slate of Board Members presented by the Nominating Committee.  We congratulate the newly elected Board:
Ian Kaplan – President
Roger Blum
Chad Fabrikant
Allison Feldman
Alex Moggio
Chris Torto
Isabel Tragash
Please contact Amy de Saint-Seine, Executive Director, for more information on the above topics.
PHS Islands Association