07 Sep

Weekly Toddler Play Group Palm Park

Posted on September 7, 2023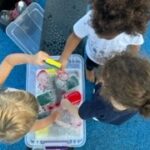 The PHS Association invites parents and childminders with toddlers to meet in Palm Island Park every Monday morning from 9am until 10am starting this Monday, September 11th.
This informal activity will continue through the school year, excluding school holidays.
It will be a great opportunity to connect with other families in our community, while the little ones enjoy some playtime.