11 Jan

Good Bin Practice for 2023

Posted on January 11, 2023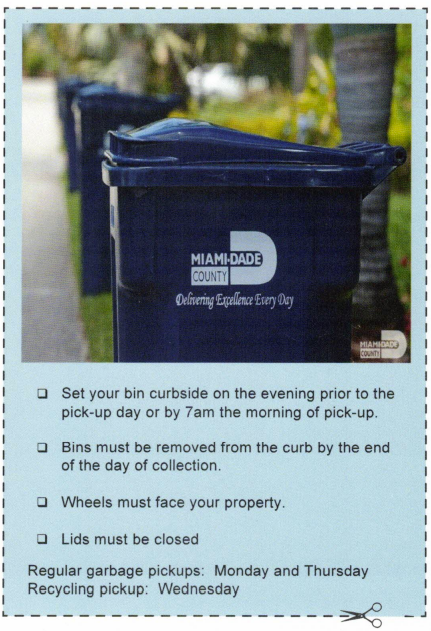 Happy 2023 to all!
Start the New Year off right and make a resolution to follow good bin practice! Make the PHS islands a better place to live by keeping the swales clear of bins on non-service days.
RECYCLING WASTE PICKUP:
The recycling truck can only pick-up and handle blue recycling bins. The recycling bin must not be overstuffed and the bin lid must be closed in order for the automated arm to properly service it. The bin wheels must face your property.
Remember to put your blue recycling bin on the curb Tuesday evenings or by 7am at the latest Wednesday morning. The bins should be removed from the curb by the end of the day Wednesday.
RESIDENTIAL GARBAGE:
Garbage pickup days are Monday and Thursday. Gray garbage bins can be put on the curb Sunday and Wednesday nights, or by 7am on Monday and Thursday, to be removed from the curb by the end of the day of collection.
CHRISTMAS TREE DISPOSAL:
This year, natural trees will be picked up for disposal by Waste Connections if no longer than 5 feet long. If longer, trees will need to be chopped up into smaller pieces.  Residents may wish to drop trees off at the City's Green Waste Facility located at 2800 Meridian Avenue.  The hours of operation are  7:00 a.m. to 5:00 p.m. Monday through Saturday and closed on Sunday, and proof of residency is required. Residents may also schedule a bulk waste pick-up with Waste Connections at (786) 515-2726. Residents are entitled to 6 free bulk pickups each calendar year.
Thank you in advance for keeping the swales clear of bins by making sure that they are stored by the end of the day that they are serviced.